The hope is that, in not too many years, human brains and computing machines will be coupled together very tightly, and that the resulting partnership will think as no human brain has ever thought and process data in a way not approached by the information-handling machines we know today
Licklider 1960

Manuel and Sandra are talking about the following article:
Do Brain Implants Change Your Identity?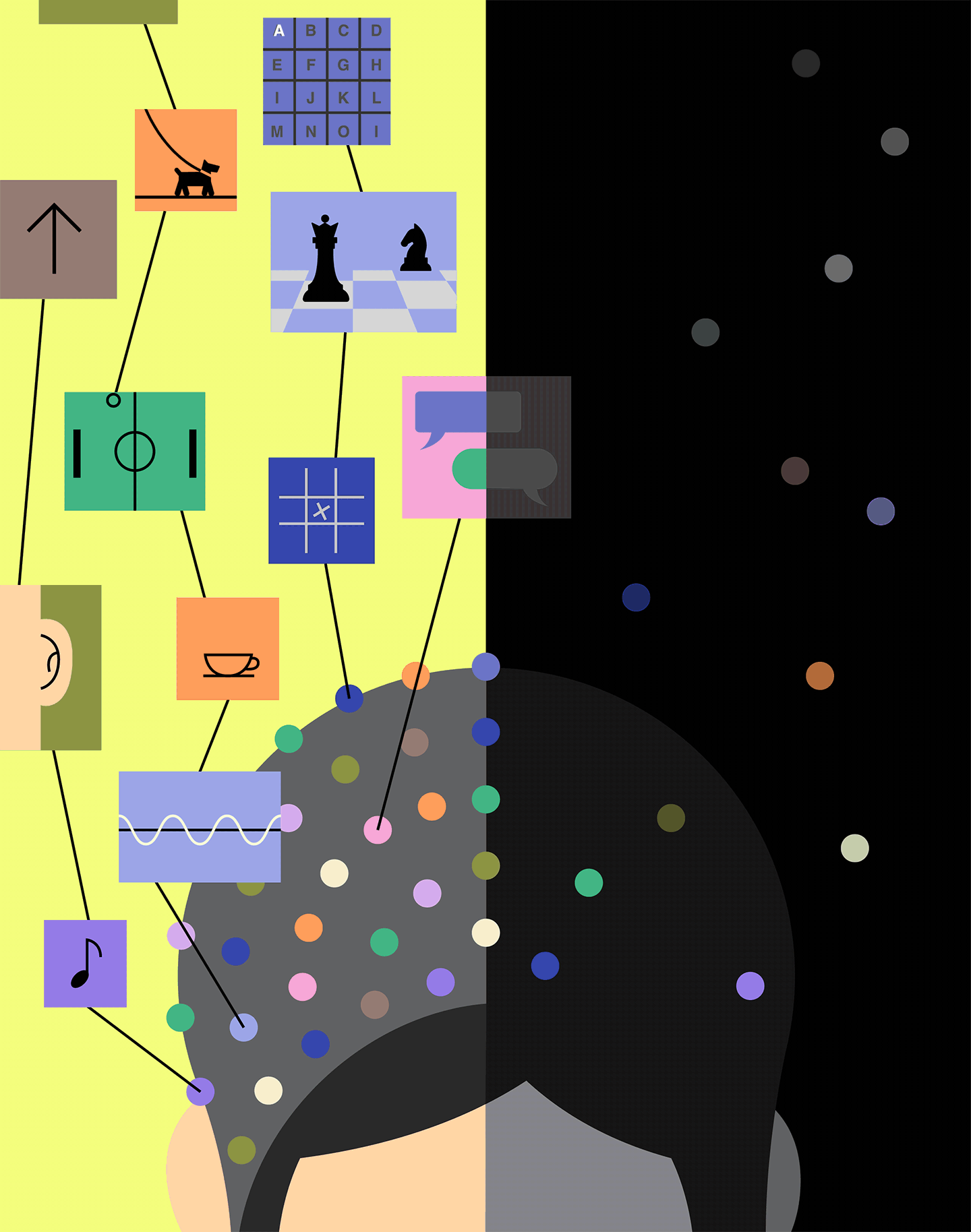 In this post :
Darlene Alderson from Pexels

Kevin Ku from Pexels
In this post the dialogue is realised by an interaction of virtual characters, for more information please check the page "Virtual characters"
Sandra
There are various means and goals when measuring and stimulating the brain, it's not easy to say stuff in general about this.
Sandra
It's not like you install a USB hub in the brain and then hook up your laptop
Manuel
No, I get that, sure. And it seems to be ethically controversial too 😅
Manuel
What are some of the questions that come up?
Sandra
For more general research: what could it be used for? And how could it be abused?
Sandra
For specific devices: what happens if it does or doesn't work? And how will people react to their implant?
Manuel
Could you elaborate on that last one?
Sandra
Sure. It is always a risk that people reject the implant, in the sense that it feels weird to them
Sandra
Having a computer "control" what you do feels creepy, even if it allows you to walk or talk again.
Manuel
I think I understand: the implanted device feels alien, and it's not like a walking stick you can leave behind
Sandra
Nope: it is part of you now, more like the hip replacement that you cannot take out.
Sandra
So we need to educate and guide people in understanding the procedure and functionality
Manuel
But still: if it helps you live a more normal life, why would there be a problem. 🤔
Sandra
Well, Deep Brain Stimulation was developed as treatment for Parkinson's at first
Sandra
Yes, but it is also being used for mental health issues, like depression or OCD.
Sandra
People feel that it interferes with their autonomy: who am I anymore?
Manuel
I see, the risk is that it takes away agency and decision making form the patient.

Sandra
Exactly, but it gets worse!                                                               
… Continue to read the conversation between Manuel and Sandra  on Saturday 9th October…
(4 votes, average: 4.25 out of 5)

Loading...
Total posts on the argument
The experimental results from neurobiology have lead to the investigation of a third generation of neural network models which …
read more
The case of the use of the abacus by Japanese school children and adults … tool's use becomes incorporated into a culture-specific technology
read more
The distinction between a "tool" and a prosthesis that is implanted into the body is more apparent than real. …
read more
The firm should have the right to take back what it produced — the collection of artificial organs illegally masquerading as Mr Jones …
read more
Once incorporated into a body, then, a prosthesis is no longer merely an object, in the sense that we can no longer straightforwardly deny that it has or plays a role in a person's subjectivity
read more
Computing devices in our pocket, Live video chats, Voice commands … The future is already here … it's just not very evenly distributed
read more
Gentlemen, we can rebuild him. We have the technology. We have the capability to make the world's first bionic man. Steve Austin will be that man. Better than he was before. Better…stronger…faster!
read more
I do think that robots deserve rights and there are research projects being carried out today that are looking at robot laws. African-American slaves were given rights when slavery was abolished and they became part of society. Think of animals too – none of them had rights in the beginning but now animal rights are the norm. So if robots can interact with humans, they too should be given rights.
read more
He clasped the beautiful Olympia, and with her flew through the dance…
He thought that his dancing was usually correct as to time, but the peculiarly steady rhythm with which Olympia moved, and which often put him completely out, soon showed him that his time was most defective
read more
Developers did not want its appearance to be over-human, as this would "encourage false expectations with regard to its capabilities" for users…
read more
Imagine a craftsman being awakened suddenly in the dead of night. He searches downstairs for something among a crowd of mannequins in his workshop. If the mannequins started to move, it would be like a horror story…
read more