Conditioning the Moral Compass
He has no real choice, has he?
Self-interest, fear of physical pain, drove him to that grotesque act of self-abasement. Its insincerity was clearly to be seen. He ceases to be a wrongdoer. He ceases also to be a creature capable of moral choice
Burgess 1962

Manuel and Sandra are talking about the following article:
The ethics of brain–computer interfaces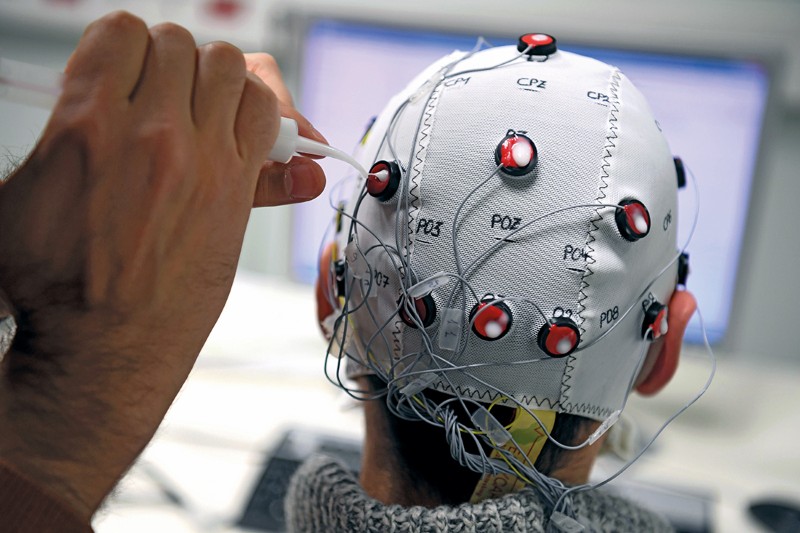 In this post the dialogue is realised by an interaction of virtual characters, for more information please check the page "Virtual characters"
Sandra
Sure, as think about facial recognition: useful as assistive technology for the blind, bad if used for racial profiling
Manuel
Right, I see what you mean
Sandra
Also with Brain Computer Interfaces and neurostimulation: what could it be used for?
Sandra
Well, have you seen or read "Clockwork Orange" ?                            
Sandra
Yes, but it's actually based on a book by Anthony Burgess.                  
Manuel
Right, I remember the main character, Alex, being somehow conditioned, right? 😉
Sandra
That's right: aversion therapy to block bad behaviour. Like spraying your cat when it gets on the counter.
Manuel
Ok, so like behavioursim? Pavlov's dogs?

Sandra
Exactly. The story criticizes the attempt to "re-train" someone to be good. What if we could do that directly in the brain?
Manuel
Oh my goodness! That's straight-up mind control! 😣

Sandra
Yep, put your tinfoil hat on. 😄                                                                
Manuel
So there actually could be a way to do that? 🤔

Sandra
It is realistic enough that people are afraid about this possibility    
Sandra
Maybe not now and not with a decade, but think about how much computers have shrunk: from room size to pocket size    
Manuel
True, I even have one on my wrist …

Sandra
So what if everyone gets a Brain-Computer Interface in 50 years because it is useful and practical … and then it gets hacked? 
Manuel
Now suddenly it doesn't sound so unreasonable anymore …

… Continue to read the conversation between Manuel and Sandra  on Saturday 16th October…
(4 votes, average: 4.25 out of 5)

Loading...
Total posts on the argument
The experimental results from neurobiology have lead to the investigation of a third generation of neural network models which …
read more
The case of the use of the abacus by Japanese school children and adults … tool's use becomes incorporated into a culture-specific technology
read more
The distinction between a "tool" and a prosthesis that is implanted into the body is more apparent than real. …
read more
The firm should have the right to take back what it produced — the collection of artificial organs illegally masquerading as Mr Jones …
read more
Once incorporated into a body, then, a prosthesis is no longer merely an object, in the sense that we can no longer straightforwardly deny that it has or plays a role in a person's subjectivity
read more
Computing devices in our pocket, Live video chats, Voice commands … The future is already here … it's just not very evenly distributed
read more
Gentlemen, we can rebuild him. We have the technology. We have the capability to make the world's first bionic man. Steve Austin will be that man. Better than he was before. Better…stronger…faster!
read more
I do think that robots deserve rights and there are research projects being carried out today that are looking at robot laws. African-American slaves were given rights when slavery was abolished and they became part of society. Think of animals too – none of them had rights in the beginning but now animal rights are the norm. So if robots can interact with humans, they too should be given rights.
read more
He clasped the beautiful Olympia, and with her flew through the dance…
He thought that his dancing was usually correct as to time, but the peculiarly steady rhythm with which Olympia moved, and which often put him completely out, soon showed him that his time was most defective
read more
Developers did not want its appearance to be over-human, as this would "encourage false expectations with regard to its capabilities" for users…
read more
Imagine a craftsman being awakened suddenly in the dead of night. He searches downstairs for something among a crowd of mannequins in his workshop. If the mannequins started to move, it would be like a horror story…
read more